2018.12.28
JILL STUART 2019 Spring Collection
In stores January 1, 2019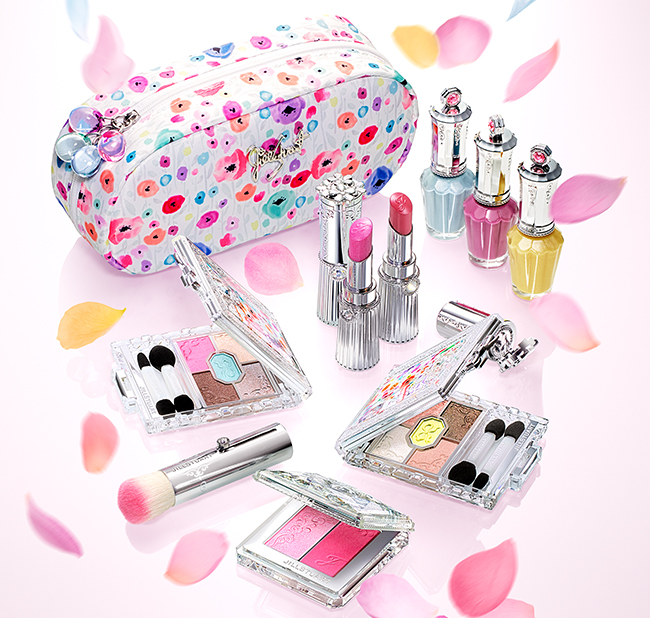 Bursting with color full of warm cheer. Cute and happy color
overflows as though a blank canvas was filled with all the hues of spring.
This spring, Jill Stuart brings a spring collection wrapped in
the myriad of cheerful colors of the season in full bloom.
Creates that happy, cute impression of cheeks with both glow
and fog that will bring out thoughts of a bright spring full of flowers.
Paint your eyes with pure colors that pop and makes your heart
flutter, with lips and nails to match. It's time for a fresh "new you"

2019 Spring Collection Line-up
| | | | | | |
| --- | --- | --- | --- | --- | --- |
| blend blush blossom | ribbon couture eyes | lip blossom | lip blossom velvet | nail lacquer R | pouch (spring popping shower) |

Apply a glowing or foggy finish just how you like.
Two colors of cheek makeup for the exact finish you imagined.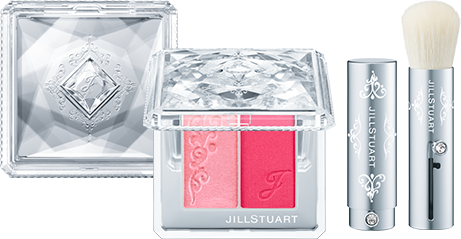 In stores January 1, 2019 New Item
JILL STUART Blend Blush Blossom
7 colors, including 2 limited-edition colors, HK$300
01 blooming bud

Bright pink like the color of flowers in bloom

02 sugary lollipop

Sweet pink red like a lollipop

03 happy sunny

Bright orange pink of a happy mood on a sunny day

04 good afternoon

Pure pink like a pleasant moment in the afternoon (*Main color)
05 new romantic

Beige pink like the feeling of a new encounter

★06 blissful time

Lavender pink of a lovely moment in the spring

★07 hello spring

Overflowing blue pink that beckons spring
★ Limited-edition color
※All foggy colors are non-pearl

A blend of color and quality that is just for you. Blend two fun types of cheek makeup as you like.

Bring out the bright colors of a warm, sunny day.
Five eye colors to make your eyes the cute colors of spring.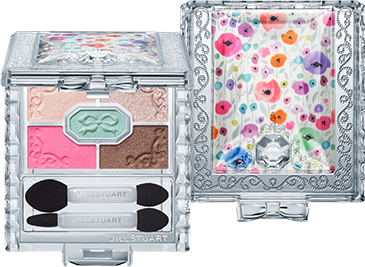 In stores January 1, 2019 Limited-edition Item
JILL STUART Ribbon Couture Eyes
2 limited edition colors HK$350
★20 happiness garden

A yellow orange palette of a spring garden overflowing with happiness

★21 foral basket

A blue pink palette the color of a basket of spring flowers (*Main color)
★ 限定色。

Fresh color with quality luster in a single application.
Lipstick that sparkles like the spring sun.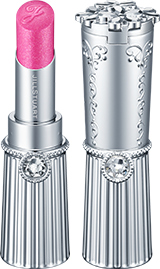 In stores January 1, 2019 New Item
JILL STUART lip blossom
2 colors HK$200
58 dolly petunia

Lavender pink of lovely petunias (*Main color)

59 happy primula

Milky red color of primula overflowing with happiness

Like lips brushed with petals and imbued with color.
Lipstick with pure color and a semi-matte texture.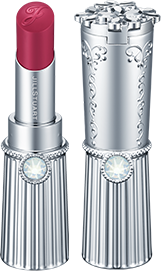 In stores January 1, 2019 New Item
JILL STUART lip blossom velvet
2 colors HK$200
14 sweet sweet pea

Pure pink like the adorable color of sweet peas (non-pearl)

15 dressy scarlet

Scarlet, romantic red (non-pearl) (*Main color)
(※主色)

Color that pops with the fresh, exciting colors of spring.
Nail colors for cheerful fingers.

In stores January 1, 2019 Limited-edition Item
JILL STUART Nail Lacquer R
10mL, 3 limited-edition colors, HK$105
★121 retro bike


Yellow like that fresh, glistening feel of a bike ride in spring (*Main color)

★122 petit jellybeans

Bright pink purple like jelly beans (non-pearl)

★123 popping bloom

Delicately sparkling blue overflowing with spring's abundance
Colorful flowers bloom to paint canvas full of color.
Limited edition pouch created in the image of spring's freshness.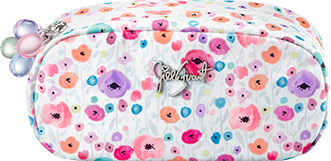 In stores January 1, 2019 Limited-edition Item
JILL STUART Pouch (Spring Collection)

HK$270
*Size: Approx. W190 x H90 x D60mm


Spring makeup hues of varied textures and bright colors