2019.3.29
JILL STUART 2019 Summer Collection
In stores April 1, 2019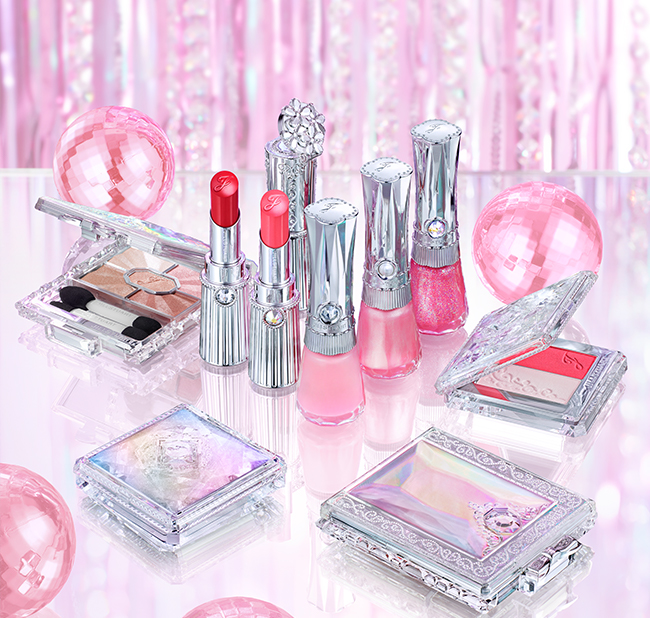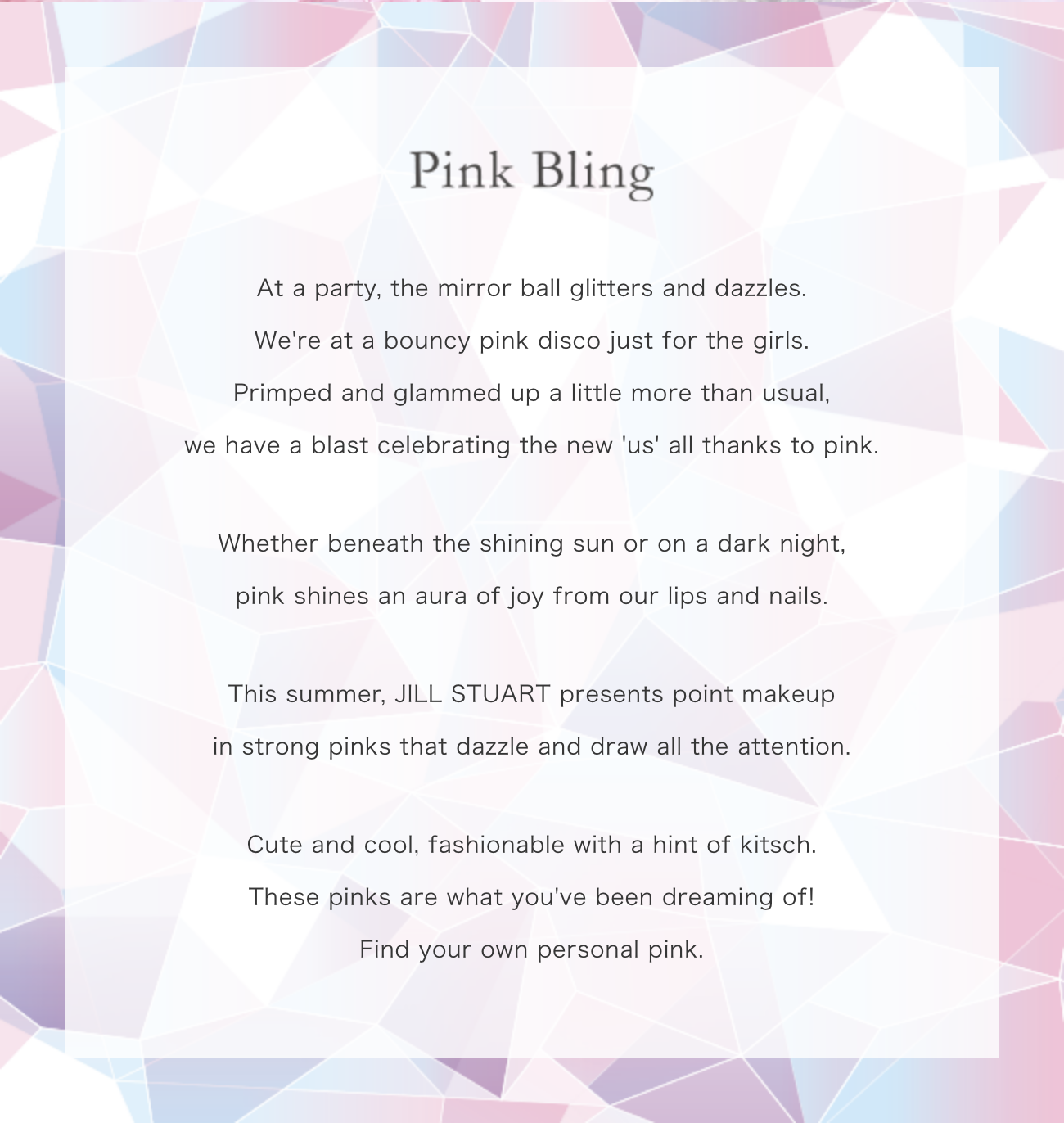 lip blossom shiny satin

nail lacquer

nail lacquer pearl

nail lacquer dazzling bijou

treatment repairing base coat

treatment repairing top coat

flower nail oil N
| | | |
| --- | --- | --- |
| ribbon couture eyes | blend blush blossom | lip blossom |

Go bold with a satin-like texture and metallic sparkle.
This shiny lipstick makes light your ally.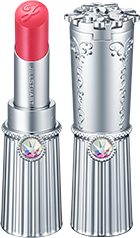 In stores April 1, 2019 New item
JILL STUART lip blossom shiny satin

10 colors, including 2 limited-edition colors
HK$200
The texture of supreme satin, and a metallic shine.
A new luxurious and fine-quality lip finish from JILL STUART.


From the Lip Blossom series comes Shiny Satin, newly formulated with Petal Satin Pearl.
Alongside the moist gloss of Lip Blossom and semi-matte texture of Lip Blossom Velvet,
enjoy the luxurious sparkle of Lip Blossom Shiny Satin.

The fine glow of satin created
with pink reflection:

The sparkle and gloss of lipstick is normally
created with scattered silver pearl,
but the Shiny Satin series uses
pink platelet pearl
that compliments skin tone.
This Petal Satin Pearl replicates a soft glow
and
the feel of fine satin.
The gorgeous metallic shimmer, highlighted
with the sparkle of platelet pearl,
creates a loveliness that
is quintessentially JILL STUART.

Oils arrange pearl like satin cloth:



Original ingredient Glow Shine Oil improves
gloss and lipstick longevity,
while Fit Stay Oil creates a snug coating on
lips
to perfectly arrange and
seal large amounts of pearl.
This further enhances the shine of platelet
Petal Satin Pearl, achieving
the beautiful texture of satin.
Also, having the oils adhere
smoothly prevents pearl
from entering vertical lip lines.
Oils create a satin-like radiance:

Layered on top of the pearl, Shiny oil
enhances the refraction of light
to make Petal Satin Pearl
shine even more exquisitely.
When lips are touched by light, it emanates
a brilliant sparkle and gloss
for a satin-like beautiful finish.


---
01
fairy poppy


Cheerful fairy pink
like a poppy
※Main color

02
romantic azalea


Beige pink like
a romantic azalea

03
classy anemone

Reddish pink
both cute and refined, like an anemone

04
innocent peony


Coral pink
with the innocence
of a peony

05
daisy party


Pink like a
colorful daisy

06
elegant marguerite

Elegant pink
like a marguerite

07
girly lily

Feminine girlish pink
like a lily

08
dressy aster


Kitschy vivid
pink like
an aster

★09
twinkle poinsettia

Pretty baby
pink like
a poinsettia

★10
brilliant hibiscus

Gorgeous magenta
pink like
a hibiscus

With vivid color, gloss, and sparkle in alluring pink hues.
This nail color has both the beauty and excitement of jewelry.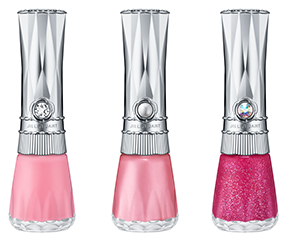 In three new types with a revamped bottle design!
Dries faster, lasts longer, and comes in more varieties.
The new Nail Lacquer has a renewed design inspired by a woman wearing vintage jewelry.
The cap and bottle have been decorated with crystal cuts,
so it glitters gorgeously in the hand and looks great on a dresser.
Three finishes - bright color, pearl, and glitter - form a line-up with even more individuality.
Faster drying and longer wearl:

It dries faster than previous Nail Lacquer,
while the long-lasting formula also keeps
color looking fresh and beautiful.
Your favorite colors go on quickly and
can be enjoyed for longer.

High gloss and a thick coating for nails:



Our original Air Transparent Ingredient
achieves a finish with higher gloss and
clarity than ever before.
It glides on evenly and forms a thick coating
on nails with just one application.
In 30 pink colors to find your favorite shade!:

Decorate your nails in the vivid colors of JILL STUART
with this line-up of 30 pink hues.
With so many colors and finishes to choose from,
you're sure to find your perfect pink!


JILL STUART
nail lacquer

13 colors, including
2 limited-edition color
7mL, $105
In stores April 1, 2019
New item

101
twilight gloom

Lavender pink like the sky at dusk

102
petit romance


Romance pink like the little romances that fill everyday life

103
mauve greige

Grayish pink with an exquisite blende of color




104
still love

Reddish pink that
excludes loveliness

105
petal bloom

Coral pink like petals dancing in the wind

106
fairy tale

Dreamy pure pink
like a sprite from a fairy tale
※Main color




107
grape fountain

Happy and poppy bright pink

108
love shower

Reddish magenta overflowing with love

109
secret promise

Grape pink that echoes a secret promise with a special person




110 red rose

Reddish pink like rose flowers

111 dressy bijou

Taupe pink like gorgeous and elegant bijou

★112 sweet holiday
Vivid pink like the lovely holidays spent with a special someone

★113 candy hunt

Candy coral like a collection of sweets
JILL STUART
nail lacquer pearl

6 colors, including
1 limited-edition color
7mL, $105
In stores April 1, 2019
New item




201
vanilla sweet

Pinkish white
like sweet vanilla

202
sweet milk caramel


Caramel pink like a milk caramel sweet

203
strawberry soda

Fresh pink like the glittering bubbles in a strawberry soda
※Main color




204
twilight kiss

Rose pink both elegant and sensual

205
ever love

Deep pink like the promise of eternal love

★206
aurora shine

Auora pink that shimmers like the northern lights
JILL STUART
nail lacquer
dazzling bijou

11 colors, including
2 limited-edition color
7mL, $105
In stores April 1, 2019
New item

301
innocent lady

innocent pink like a woman with a childlike touch

302
embroidery lace


Cherubic pink with a delicate sparkle like embroidery

303
romantic gem

Light pink with the romantic sparkle of gemstones




304
petal flower

Translucent innocent pink that evokes a rain of glower petals

305
hum a tune

Pink rose both sheer and shimmery

306
twinkle bud

Twinkling pink like the excitement of flower buds waiting to bloom




307
ball room

Magenta pink with varicolored sparkle
※Main color

308
party girl

Party pink like a girl shining brightly in the middle of a gorgeous party hall

309
dazzling petal

Dazzling pink with the shimmer of flower petals




★310
vintage chandelier

Vintage pink with the warmth and sparkle of an antique chandelier




★311
galaxy flower

Galaxy pink that glitters gorgeously like a whirlwind of flowers

For a smooth sparkle like a coating of gemstones.
These base and topcoats enhance the beauty of nails.

In stores April 1, 2019 New Item
JILL STUART treatment repairing base coat
7mL, 1 type, HK$105

01 clear

Clear type for a glossy nail finish

(non pearl)


02 pearl

Pearl type for a glossy finish with a gorgeous touch of fine pearl
In stores April 1, 2019 New Item
JILL STUART treatment crystal top coat
7mL, 1 type, HK$105

Get moisture care with the essence of flowers.
This nail oil beautifies nails and fingertips.

In stores April 1, 2019 Limited-edition Item
JILL STUART flower nail oil N
7mL, 1 type, HK$125

Look ever more gorgeous with superior gradation.
These five-color shadow sets paint eyes with sophistication and sparkle.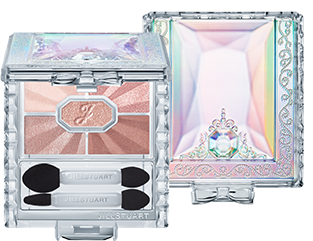 In stores April 1, 2019 Limited-edition Item
JILL STUART ribbon couture eyes
2 types, HK$350
---
22
fairy dust

Pink-brown set with assorted pearl that glitters like magic

23
pinky pop

Pink set both pretty and cute.
with exciting sparkling pearl

Imbue cheeks with the rush of a joyous moment.
This blush duo creates the radiance and color of excitment.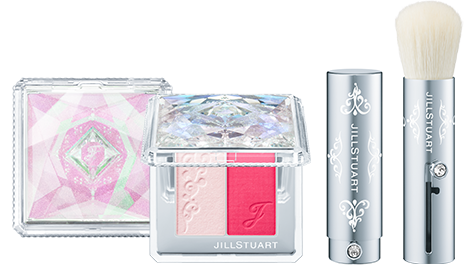 In stores April 1, 2019 Limited-edition Item
JILL STUART blend blush blossom
2 types, HK$300
---
08
princess pink

Sweet and cute pink set

09
time for fun



Pure pink set like a moment of joyous happiness
*Main Color

For summer days when you want to stand out.
This lipstick sets sophisticated allure into full bloom.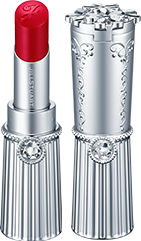 In stores April 1, 2019 New colors
JILL STUART Lip Blossom
4 colors, $200
---
60
melty rose

Melty red with the gorgeousness and enchantment of a rose
*Main color

61
cheerful peony


Coral red with the pleasant charm of a peony

62
classy kalmia


Classy pink with the elegance and sweet touch of a kalmia

63
elegant aster


Pure pink like a pleasant moment in the afternoon (*Main color)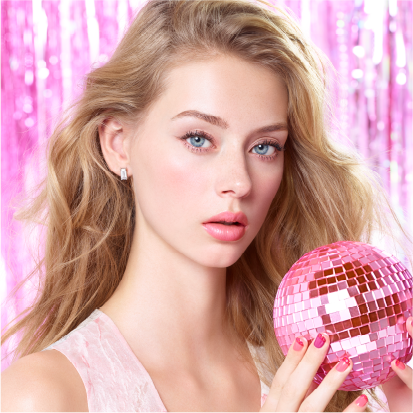 ---
| | |
| --- | --- |
| Ribbon Couture Eyes | :22 fairy dust |
| Stay True Gel Liner | :02 artistic brown |
| Blooming Blossom Curl Lash Mascara | :01 pure black |
| Blend Blush Blossom | :09 time for fun |
| Lip Blossom Shiny Satin | :01 fairy poppy |
| Nail Lacquer | :112 sweet holiday |
| | :113 candy hunt |
| Nail Lacquer Dazzling Bijou | :311 galaxy flower |
---