2016.02.19
new base makeup items & limited items

The brilliance of the sun grows with each passing day. Beneath the soft rays of light, feel the gentle breeze comfortably stroking your cheek as a spring to make your heart dance finally arrives.


In accordance with the changing of the seasons, you'll want to select base makeup that lightly, gently protects and beautifies your skin. Slipping into this delicate veil of pure color, so soft and gentle, realizes an overflowing feeling of translucency. Skin that sparkles like crystal brings you a heightened feeling of innocence.


Obtain skin so brilliant it outshines even the sun and that first step you take outside will feel completely different. Like a balloon drifting through the sky, carried only by the wind. You will surely arrive in your own unique world, brilliant and sparkling.

A soft and gentle veil of translucency.
Face powder that brings you pure, flushed skin.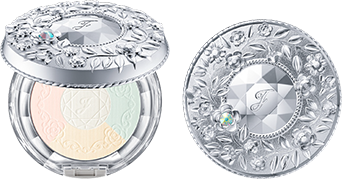 In stores from March 1, 2016 Limited Edition
JILL STUART crystal lucent face powder
5 colors x 3 types, 1 limited edition, HK$340 each SPF20/PA++
| | | |
| --- | --- | --- |
| | | Supplied with a brush that feels great against the skin. |
---

01 natural

A natural beige that blends perfectly into your skin (non-pearl)


02 lucent

Cold pastel colors that draw out translucency (non-pearl) *Main color


★03 petal shower

Cute and pure pink pastel color
★Limited edition color
---
Face powder with pink nuanced primary color powder
for translucent, bright and flushed skin.
1 Natural brightness provided by RGBP powder

Rarely seen primary color powders (red, green, blue) are mixed with just the right hint of flushed pink to create RGBP powder, providing a natural impression as though your skin is glowing from within.
2 Blends well with the skin for a moist and elegant finish

The biological analogue "Amino acid powder" provides close coverage and moisture. Blending well with the skin even as a powder, the elegant application remains comfortable and resistant to drying even with the passage of time.
3 UV blocking effect

Protects your skin from harmful UV rays SPF20/PA++
RGBP Powder



A mixture of red (R), green (G) and blue (B) light can create a variety of different colors. Furthermore, combining the three of these colors together at 100% creates white. RGBP powder takes this white light and adds an oh-so-Jill Stuart perfect pink nuance. The highly translucent powder will take in and then reflect back light across your skin, making it appear so bright, as though glowing from within.


How to Use Crystal Lucent Face Powder
---


1 Collect a suitable volume on the brush by depicting circles with it, blending the five colors as you go.





Perform a single circle with a wide brush to blend all of the colors.



---


Supplied with a soft brush that feels great against your skin.
Provides a soft and translucent finish without opening your pores.

---

---


2 Take a suitable volume on the brush prior to application on each cheek.



Use the back of your hand to check application color, and then apply using a back-and-forth motion from the center of your cheek or forehead.

*Use the brush standing directly up against your skin for a finish that will help conceal pores.

---


3 Take a small amount on the brush and spread across delicate areas, such as around the eyes and the nose.



Finely apply the powder remaining on the brush along your face lines.



For cherry blossom skin long after spring has passed.
CC Cream brings you fresh and translucent finish.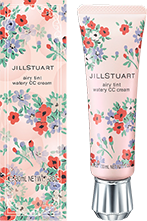 In stores from Tuesday March 1, 2016 at SOGO Causeway Bay & SOGO Tsim Sha Tsui counter.
In stores from Tuesday March 8, 2016 at all counters.
Limited Edition
JILL STUART airy tint watery CC cream
34g 2 colors 3, HK$220 each SPF30/PA+++
---
| | |
| --- | --- |
| 01 light floral beige | 02 natural floral beige |

Makeup base that retains freshly applied color
while bringing out the best of your face.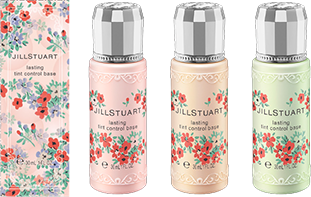 In stores from Tuesday March 1, 2016 at SOGO Causeway Bay & SOGO Tsim Sha Tsui counter.
In stores from Tuesday March 8, 2016 at all counters.
Limited Edition
JILL STUART lasting tint control base
30mL 3 colors, HK$210 each SPF35/PA+++
---

01 fresh

pink: for those seeking a natural flushed tone


02 natural

beige: for those with concerns about discoloration, freckles and bags


03 translucent

light green: for those worried about redness on their cheeks or dullness