2016.10.25
JILL STUART Tweed Party Collection
In stores Tuesday November 1, 2016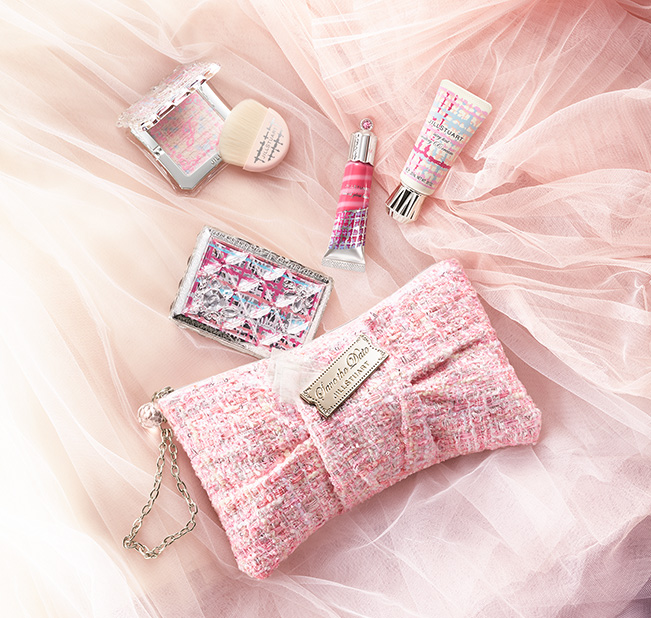 The party dress code is tweed!
A holiday party themed makeup collection that goes
perfectly with styles loved by girls and by ladies.
Four limited edition items - eye color, face color,
CC cream and lip gloss – come together in a tweed
clutch-bag style pouch.

In stores November 1, 2016 Limited edition

JILL STUART
Tweed Party Collection

HK$520

A brilliant sparkle and quality luster, like crushed gemstones.
Eye color that brings you luxurious eyes.

JILL STUART
Shimmer Couture Eyes



09 winter tweed
Four colors - white, smoky beige, pink and black - with a tweed image.


Cover your skin in a soft and brilliant veil.
Face powder that brings you translucent skin.

JILL STUART Tweed Face Powder



Pastel colors - pale pink, pale blue and off white - with a tweed image.



For pure, moisturized skin.
CC cream that provides a fresh and translucent finish.

JILL STUART
Airy Tint Watery CC Cream



02 natural floral beige

Two colors provide gentle pinks and rich moisture.
Lip gloss that brings you full and lustrous lips.

JILL STUART Tweed Gloss Balm



Two colors - bright pink and milky pink - with a tweed image.

JILL STUART Pouch



A ribbon shaped clutch style pouch made using an original tweed material and with a party bag theme. On the front is a plate designed to look like an invitation card and the words "Save the Date." Comes with a crystal charm and removable chain.

Pouch size: Approx. W220 x H140mm (chain length approx. 115mm)



Shimmer Couture Eyes: 09

Tweed Gloss Balm

Tweed Face Powder

Airy Tint Watery CC Cream: 02

Stay True Gel Eyeliner: 01

Blooming Blossom Curl Rush Mascara: 01

Mix Blush Compact N: 01

---

How to makeup

1. Use your finger or a tip to apply Shimmer Couture Eyes A Clear Eye Base, and then B Jewel Couture Color across your entire eyehole. Extend D Deep Color along the edge of your eye, and overlay with C Jewel Couture Color above your pupil and at the outside edge of your bottom lid.

2. Use Stay True Gel Eyeliner to make a natural line along the edge of your eyes.

3. Apply a thick layer of Blooming Blossom Curl Rush Mascara from the roots of your lashes, for a rich finish.

Imagine a line directly down from the pupil of your eye, and another directly across from the end of your nose. Start where the two lines meet and use Mix Blush Compact to depict a circle that spreads outward.

Apply Tweed Gloss Balm across your entire lips.