2016.11.22
JILL STUART Fragrance Collection
In stores from Thursday December 1, 2016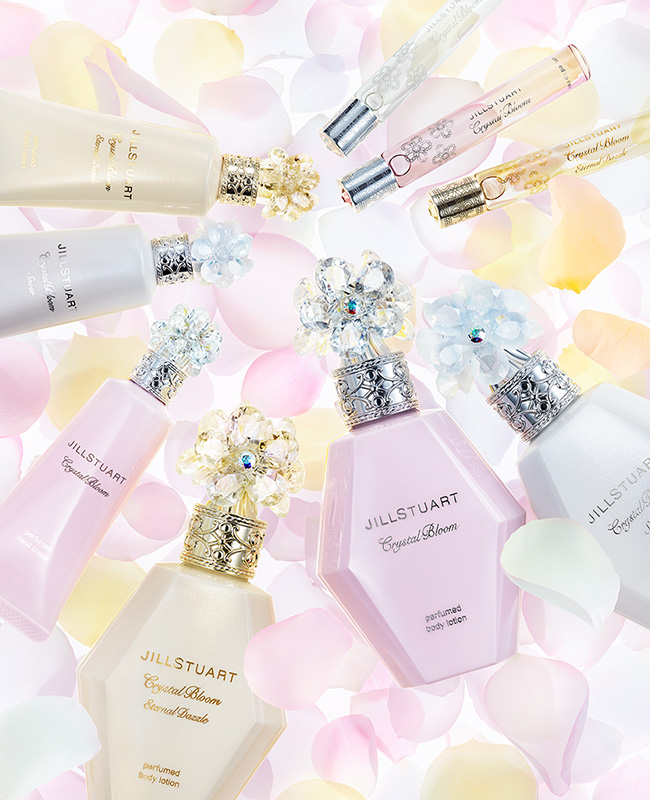 Crystal Bloom, a pure and charming bouquet.
Crystal Bloom Snow, a clean and beautiful snowy bouquet.
Crystal Bloom Eternal Dazzle, a glittering sparkly sunlight bouquet.
Each of these miraculous perfumes are packed with more than
100 fragrance materials, enthralling all who encounter them with
opposing traits of translucency and sweetness.
Now, changing form, these scents return as new fragrance items.
A rollerball to take along when you dress up and head out with just a small bag,
a body lotion that envelops your entire body in a serenely comforting scent,
and hand cream that brings charm to your hands even in the way you apply it.
Coupled with designs that bring you joy just by looking at them,
prepare to be filled with overflowing feelings of happiness.
The most innocently sexy
beauty fragrance collection in the world.
Let your own unique beauty bloom, like a bouquet of blossoming flowers.



The Crystal Bloom fragrance, always so appealing.
After taking a shower, body care before going to bed, hand care when you want to refresh your mood... Fragrance items with the luxurious scent of full blooming flowers, bringing you smooth moisture from the moment they touch your skin, so comfortable and so soft, heightening your feminine sensibilities. For yourself, and for the moments you spend with someone special, bring a gorgeous touch with you wherever you go.
The blessings of flowers and fruit
Formulated with five beauty essences carefully selected for their benefits on the skin, and originating with the same flowers and fruits that are used as fragrance materials. While drawing out the original suppleness and translucency of your skin, they blend with the fragrance to heighten overall appeal.
A comfortable, quality veil
Spreads smooth and easily, creating a comfortable all-seasons veil that seals in fragrance and moisture while keeping your skin refreshed.

A "crystal bouquet" concept;
something special to make women sparkle like a diamond.
The cap is decorated with three flowers that have five petals each, and with a Swarovski crystal sparkling with aurora colors in the center. The pedestal is decorated with a flower motif relief using flower stamens and pistils.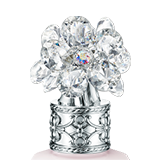 The soft fragrance of the Tutu Accord* creates an appealing variety of expressions amid a bloom of over 100 materials.
The *Tutu Accord is an original accord created especially for JILL STUART Crystal Bloom eau de parfum. It has a tutu dress like effect, building up from below and spilling its fragrance out. With each material carried by the tutu, it softly spreads a translucent, lovely fragrance.