2017.03.01
JILL STUART new base makeup items
In stores March 1, 2017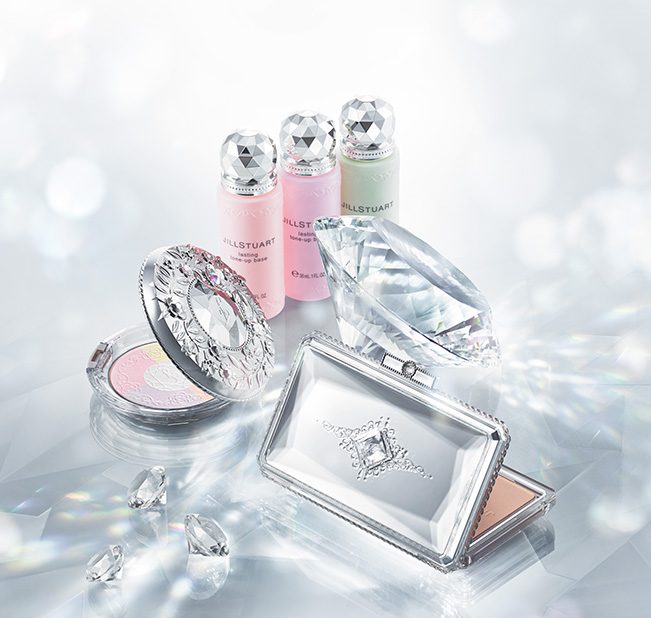 Like a diamond, increasing in brilliance with every polish.
A girl's skin is the same as a gemstone,
concealing the possibility of infinite sparkle.
The evolution of JILL STUART foundation
now provides a crystal translucency and long-lasting,
beautifully lustrous coverage.
Soft application, as though polishing the skin,
releases a light that will appeal to one and all,
like a diamond with the promise of eternal sparkle.
Open the fashionable, clutch bag motif compact
to find both sparkling skin and a new you waiting just beyond.

Crystalline translucency and luster, however you desire it.
Powder foundation that uses a light veil to
provide beautiful coverage right down to the pores.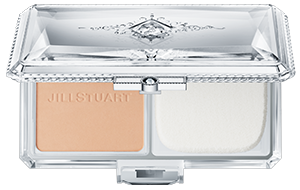 In stores March 1, 2017
JILL STUART Everlasting Silk Powder Foundation Crystal Perfection
※Case in the photo sold separately
10g, 5 colors, HK$260 SPF25/PA++
---


101 llinen
Light ochre



202 ivory
Pinkish, light ochre 


103 nude
Standard ochre


204 sand
Pinkish ochre


105 tan
Healthy ochre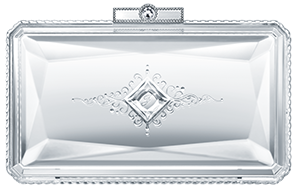 In stores March 1, 2017
JILL STUART Powder Foundation Compact C
※Supplied with a sponge.
HK$110
| | |
| --- | --- |
| | The clasp part of the design is depicted using a Swarovski. |

Foundation that provides a translucent,
lustrous, long lasting beauty film.

Close coverage crystal powder
Created using highly translucent pearls that excel at adhering closely to the skin. The light from this luster covers uneven or discolored patches while the powder creates a completely even and uniform film, especially if applied as though polishing the skin.
Phospholipid processing cover powder
Covering a face product with highly moisturizing phospholipids that also blend so well into the skin removes any powdery sensation and provides complete coverage with even just a thin layer.
Everlasting powder
Plate-like powder that heightens coverage of the skin and creates an even and smooth layer.
Melty fix powder
Plate-like powder that blends meltingly into the skin and creates an even and smooth layer.
Pore block powder
Powder that boasts superlative soft focus coverage and skin lipid absorption effects.
Smooth clear powder
Spherical powder with excellent soft focus coverage and slippage prevention effects.
A translucent, lustrous finish!

Plate-like powder, especially when coated with amino acids, blends exceptionally well into the skin. A rich formulation of such powder is therefore used to create a smooth and even film. Over the top of this, close coverage crystal powder is also used to create a natural luster, forming a veil of light. This double layer of lustrous films realizes translucent, shimmering skin like nothing seen before.
A thin layer that yet provides complete coverage

The close coverage crystal powder formulation covers uneven or discolored patches with a lustrous light. In addition, a gentle veil of light with a stunning soft focus effect adjusts even or discolored patches with just a thin layer, realizing coverage that makes skin look beautiful while using only the thinnest layer of product.
A lustrous beauty film that lasts a long time

The close coverage crystal powder retains its luster while adhering to the skin, creating a beauty film that lasts. Phospholipid processing powder blends well with the skin and suppresses slippage or film floating caused by such things as skin lipids, while lipid absorbing powder absorbs any excess lipids. Furthermore, organic powder resistant to dullness even when wet allows for clear and rich color that lasts.

Softly enveloping to maintain the finish of the foundation.
Make up base that brings you bright skin, with no sign of pores or discoloration.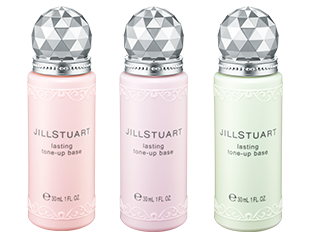 In stores March 1, 2017
JILL STUART Lasting Tone-Up Base
30mL, 3 colors, HK$210 SPF35/PA+++
---


01 pure
For pure skin with natural brightness and a flushed feeling.


02 translucent
For bright skin with reduced areas of dullness.


03 fresh
For pure skin with reduced areas of redness.

A lasting base that spreads so lightly to
bring you translucent, bright skin.
Tone Up Cover Powder
Fit Up Oil, silicone oil, silicone gel, hydrocarbon oil, ester oil, UV absorption agents, beauty essences
Pores, lipid care elements
Alum
Pearl agent
Ultraviolet scattering agent: Silicone processing titanium oxide (zinc)
Water, alcohol, glycol
As many of the formulated powders have water-repellent treatment, the product is highly water resistant and provides excellent makeup hold.
Furthermore, the highly volatile silicone oil spreads lightly across the skin, providing a smooth finish free from stickiness.
Tone Up Cover Powder



| | | | | |
| --- | --- | --- | --- | --- |
| Cover power | | Translucency | | Makeup hold |


Organic spherical powder with superlative soft focus effect.
Makes skin look soft and bright, providing sufficient coverage from even a thin layer.
Highly volatile and very absorbent of lipids, it also provides excellent makeup hold.

Fit Up Oil



| | | | | |
| --- | --- | --- | --- | --- |
| Light spread | | Translucency | | Close coverage |


Oil that spreads lightly and blends easily into the skin. Provides close coverage with a thin and translucent film finish.
Pore, lipid care elements



| | | |
| --- | --- | --- |
| Pore coverage | | Makeup hold |


Heightens makeup hold with high lipid absorption properties. Also realizes a finish that conceals uneven patches.

Alum



| | | |
| --- | --- | --- |
| Pore coverage | | Makeup hold |


Offering highly astringent properties, tightens pores and reduces the production of lipids, heightening makeup hold.

A soft and gentle veil of translucency.
Face powder that brings you pure, flushed skin.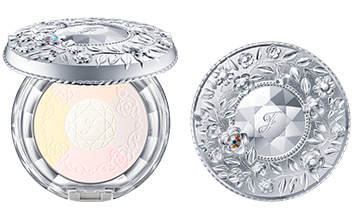 In stores March 1, 2017
JILL STUART Crystal Lucent Face Powder
5 color HK$340 SPF20/PA++
| | |
| --- | --- |
| | Provided with a brush that is soft on the skin. |
---



09 fairy

Pastel colors that provide brightness and bring out translucency


Finish Positioning Map