2017.08.29
new base makeup items
In stores from Friday September 01, 2017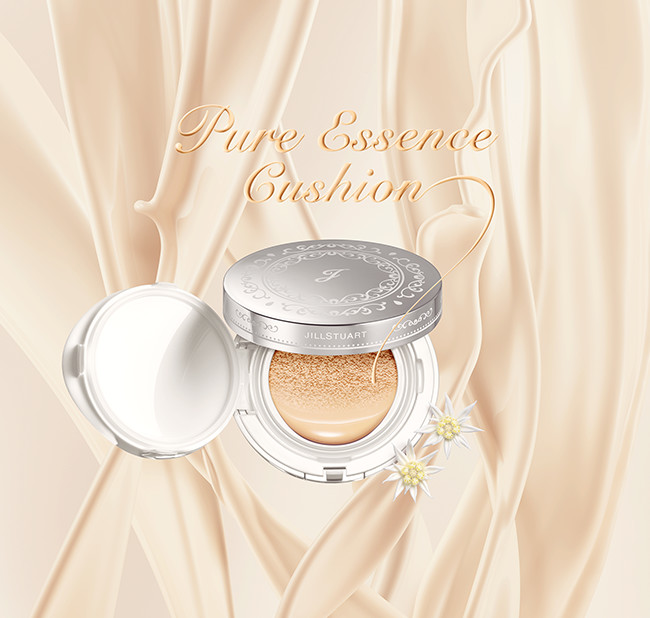 Tucked away inside this cushion you will find
the purity of a girl and the allure of a woman.
"If only it took just a moment to achieve
beautiful skin with the qualities of both."
At last, that wish has come true.

With JILL STUART's new foundation "Pure Essence Cushion Compact",
it only takes a gentle press of the cushion and simple taps on your face
to achieve fresh and lustrous skin, with no need for additional skincare or a base.
Skin feels pure, as if it's been beautifully reborn.

It even holds its own when there's no time for a touch-up,
creating a beautiful layer that lasts for up to 15 hours*.

An innocence, and yet a sexiness,
that begin with the press of a cushion.

Innocent yet sexy skin that begins with a press of the cushion.
Luster and translucence that lasts for 15 hours*, with no need for additional skincare or a base.

In stores September 1, New Product
JILL STUART pure essence cushion compact
15g, 5 colors, HK$190 each
SPF40/PA+++
JILL STUART cushion compact < includes puff >
HK$80
**Pictured case is sold separately.
---
101 linen
Bright ochre

202 ivory
Pink, bright ochre

103 nude
Standard ochre

204 sand
Pink ochre

105 tan
Healthy ochre

Lustrous moisture and pore hiding translucence
that lasts Cushion Foundation
Feature 1. Fully hydrated, fresh and lustrous skin
---
Formulated with moisturizing ingredients,
including Edelweiss extract and Rosemary extract, and emollient oil.
Protects the moisture of your skin, imparting a richly-moist luster.
Feature 2. Skin with no visible pores, as if your bare skin itself has become more beautiful
---
Easy to create an ultra-thin, beautiful foundation layer,
realizing a lasting natural coverage effect that never gets too thick.
Also thoroughly protects against daytime UV rays, giving skin a bright and translucent finish.
Feature 3. Perfect skin, resistant to dryness,
that lasts for 15 hours*
---
The coating compound holds emollient oil and moisturizing ingredients, adhering tightly to the skin
so that it resists dryness and deterioration even over many hours.
Also contains amino acid powder with water-repelling properties,
creating a makeup layer highly resistant to sweat.*
*JILL STUART research. Individual results may vary.

A supreme ultra-thin layer that
feels bonded to bare skin, rather than just simply applied.
The secret to a natural finish that feels like your skin itself has become more beautiful.

The mechanisms of Pure Essence Cushion Compact