2017.09.25
JILL STUART RELAX® Limited items
In stores from Sunday October 1, 2017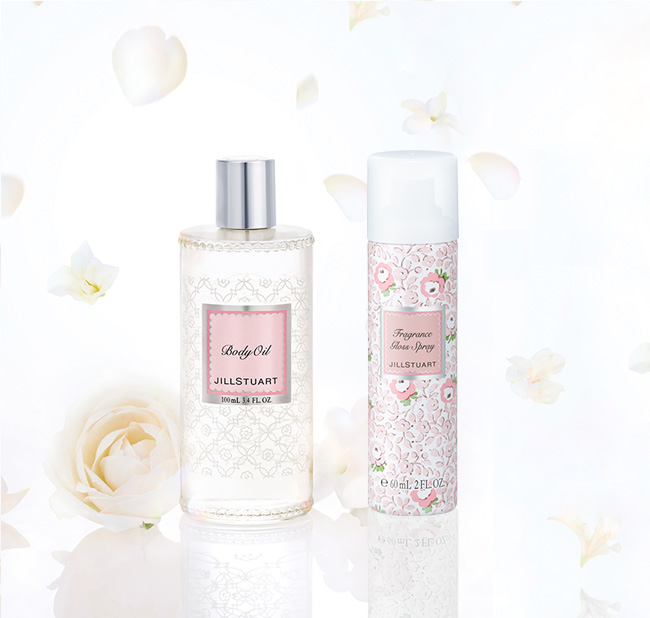 This limited-quantity release is a revival of our
smooth-textured and sweetly-scented Body Oil,
and mini-size Gloss Spray that cares for cuticles with
oils and beauty essences while imparting each hair with
fragrance and sparkling luster.
Be wrapped in joyful fragrance, and
make every day shine with radiance and moisture.

Body oil with a smooth and light texture,
and sweet, gentle fragrance.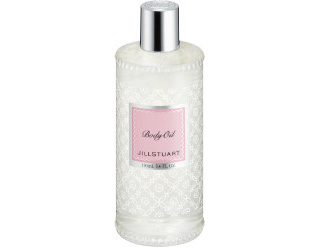 In stores October 1, Limited edition
JILL STUART body oil
100mL, HK$210

Bringing sparkling luster to each and every strand of your hair.
Fragrance Gloss Spray with a delicate fragrance that lasts.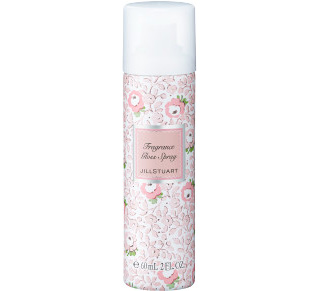 In stores October 1, Limited edition
JILLSTUART fragrance gloss spray
40g HK$105

Peach kernel oil
Oil obtained from the pits of peaches. The delicately-fragranced, light golden oil has a smooth texture and permeates well into skin, also making it ideal as a massage oil.
Rosehip oil
An oil obtained by pressing the seeds of rosehip, the fruits that remain after roses have bloomed. Rosehip contains many nutrients required by a woman's body, and has been frequently used since ancient times in teas for beautiful skin.
Apricot oil
Known as anzu in Japan, this pale yellow fruit resembles the Japanese ume plum. This oil is obtained from apricot pits and has a characteristic smooth and non-sticky texture.
Grape seed oil
This is a rare oil that is obtained from the tiny seeds of grapes. It has been a byproduct of white wine production in Europe for centuries. It's mainly composed of linoleic acid and oleic acid, and feels soft on skin.
Macadamia nut oil
Oil obtained from macadamia nuts. Oleic acid is one of the main nutrients in macadamia nuts, and they also contain plentiful amounts of fatty acid palmitoleic acid, which is similar to human sebum and has good affinity with skin. Effects can be seen not only on skin, but also hair.
Argan oil
A rare oil harvested from the seeds of the argan tree, which is native to a very small area in southwestern Morocco. Known as "Moroccan gold" and "magic oil", it has been loved by Moroccan women throughout the ages and used in hair and skin care.