JILL STUART forever juicy oil rouge (2016 Spring collection New & Limited Colors)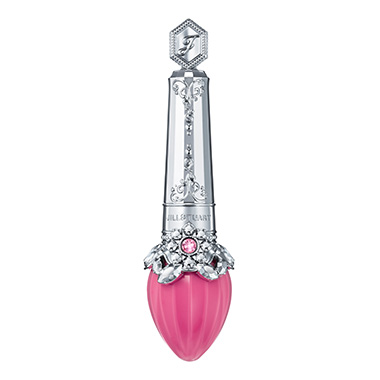 Fruit colors ripened in the spring sunlight.
Oil rouge that brings you lips like fresh fruit.
In stores from January 4, 2016 new colors & limited color
JILL STUART forever juicy oil rouge
10mL 3 colors, 1 limited color HK$200
・09 ripened pitaya *main color
Milky pink, like ripe pitaya
・★10 jovial pomelo
Reddish orange, like a fresh citrus pomelo
・11 merry pomegranate
Ruby pink, like the flesh of a pomegranate
*All non-pearl
★limited color

Product features:
・Liquid rouge that realizes brilliant color, rich luster and the moisturizing power of a beauty oil, all in a single product. Provides lasting, juicy color, like fruit ripening in the warm sunlight of spring.
・A liquid and yet not sticky at all, spreading smoothly to provide perfect, close coverage for your lips.
・Richly colored pigment and base evenly, closely cover your lips. Provides beautiful, lipstick like color that lasts.
・A new "beauty oil base" has been developed, combining argane oil, peach kernel oil, apricot oil, grape seed oil and avocado oil with highly water retaining oils in order to create a feeling of moisture akin to that of a skin care product. This realizes a liquid rouge that also offers a highly moisturizing sensation. Close contact oils cover any vertical creases in your lips.
・In addition to the highly lustrous oils used in glosses, the newly formulated "fit & flat oil" smoothly spreads a layer of makeup, providing a rich, lustrous, glossy finish. Furthermore, while bringing color to your lips it also envelops them in moisture, allowing for long lasting juicy color coupled with rich moisture.
・Born in the concept of "rouge that brings you fruity lips" comes a design reminiscent of a strawberry. At the center of the jewels from which the fruit flowers there sparkles a light rose Swarovski rhinestone, and the top is crowned with a plate with a J mark.
・Crystal Floral Bouquet Fragrance.
Directions for use:
・Take a suitable volume onto the supplied tip and apply directly to your lips
Beauty essences:
・Fermented cherry extract, Argane oil, Lichee honey, Peach kernel oil, Apricot oil, Grape seed oil, Avocado oil, Strawberry extract (moisturizer)
09
ripened
pitaya
*main
color

10
jovial
pomelo
*limited
color

11
merry
pomegranate