JILL STUART spring snow nails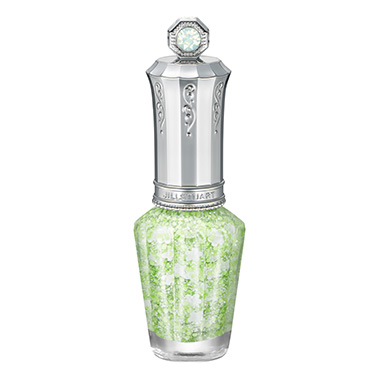 Like the moment in which spring snow and flowers meet.
Nail colors in pure and illusory hues.
In stores from January 4, 2016 limited product
JILL STUART spring snow nails
10mL 7 limited colors HK$115

・★01 blooming snow  
Pastel green flower snow
・★02 flower snow  
Pastel yellow flower snow
・★03 candy snow *Main color 
Sweet candy snow, like a delicious sugary treat
・★04 marshmallow snow  
Milky marshmallow snow, inspired by a variety of flavors
・★05 misty snow  
Misty snow, airy like a bright and clear morning
・★06 leafy snow  
Leafy snow, like young leaves blowing in the spring breeze
・★07 feathery snow  
Feathery snow, like the wings of a canary crossing the spring sky

★limited color


Product features:
・Limited edition nail colors that provide pure nails with a charming scattering of different color elements.
・Color selection is based on snow dancing in the soft sunlight of spring.
・A fresh base that is easy to apply. Spreads light and smoothly, for a uniform finish with no patchiness.
・Offers excellent, close coverage, for a beautiful finish that lasts.
・A quick-drying type that dries exceptionally quickly.
・The lasting polymer responds flexibly to impacts to your nails or changes in their shape, providing beautiful color that lasts.
・The top of the cap is decorated with a white opal Swarovski rhinestone, evocative of springtime snow.
・Crystal Floral Bouquet Fragrance.

Beauty essences:
・Lavender oil, Avocado oil (Moisturizer)

*Design explanation
・Box is decorated with a flower pattern in watercolors.
01
blooming
snow
*limited
color

02
flower
snow
*limited
color

03
candy
snow
*limited
color

04
marshmallow
snow
*limited
color

05
misty
snow
*limited
color

06
leafy
snow
*limited
color

07
feathery
snow
*limited
color