JILL STUART shimmer couture eyes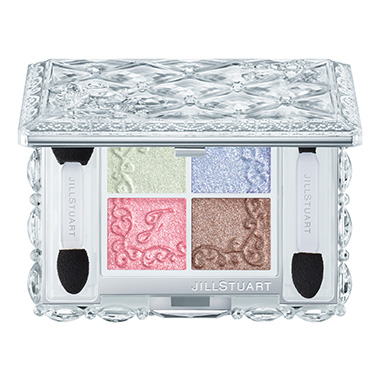 Bring a gemstone-like sparkle to your eyes.
Four clear and rich eye colors.
JILL STUART shimmer couture eyes
4 colors x 5 types HK$350
New colors (8)
Available from August 29, 2016 at Harbour City Gateway Arcade Atrium Ⅱ
Available from September 1, 2016 at all counters.
Four colors in each set produce sparkle, luster and clarity, bringing a stunningly gorgeous finish to your eyes.
・01 timeless amethyst
For those seeking feminine, gorgeous eyes
Lavender & pink, inspired by the timeless sparkle of amethyst
・02 fairy dazzle
For those seeking fresh, gorgeous eyes
Fairy green & fairy orange, inspired by the sparkle of fairies
・03 layered jewelry *Main color
For those seeking charming, gorgeous eyes
Misty green & misty blue & misty pink, inspired by layers of rich jewelry
・05 vintage brilliance
For those seeking elegant, gorgeous eyes
Gold & brown, inspired by the rich sparkle of vintage jewelry
08 bordeaux bijoux
A sparkling mauve pink, based on bordeaux bijoux *Main color
★limited color

Product features:
・An elegant sparkle created from rich pearls. A set of four eye colors that bring you dazzling eyes, wreathed in a sparkle like crushed gemstones and an elegant luster.
・The moist and creamy A "Clear Eye Base" is richly formulated with firm oils that work easily into your skin, providing perfect coverage. It helps to bring out the sparkle of the colors layered over the top while also heightening the hold of makeup, providing a glistening luster while banishing dullness and making your eyelids bright and appealing.
・The softy and gentle B & C "Jewel Couture Color" and D "Deep Color" are richly formulated with light, smooth, and highly translucent oils, giving a feather-light feeling of application and realizing clear and full-bodied color. Powder with a crystal oil coating helps to reduce loss of pearls, maintaining a beautiful and sparkly finish for as long as possible.
・The essence-in-base formulation provides a smooth and moist sensation of use and highly translucent, popping color.
・Supplied with a pair of two-headed applicator tips that feel smooth on your skin while applying an even layer of rich color. Use the large tip for the Clear Eye Base, the medium tip for the Jewel Couture Color, and the small tip for the Deep Color to provide beautiful gradation.
・The theme of the compact design is the sparkle of gemstones. Princess cut tiles are decorated with a chain link of jewelry broaches, creating a varied and enticing sparkle with real depth. The arabesque pattern along the edges is decorated with sparkling beads.
・Crystal Floral Bouquet Fragrance.
01
timeless
amethyst


02
fairy
dazzle

03
layered
jewelry
*Main
color

05
vintage
brilliance