Shimmer Couture Eyes (2016 Fall Collection)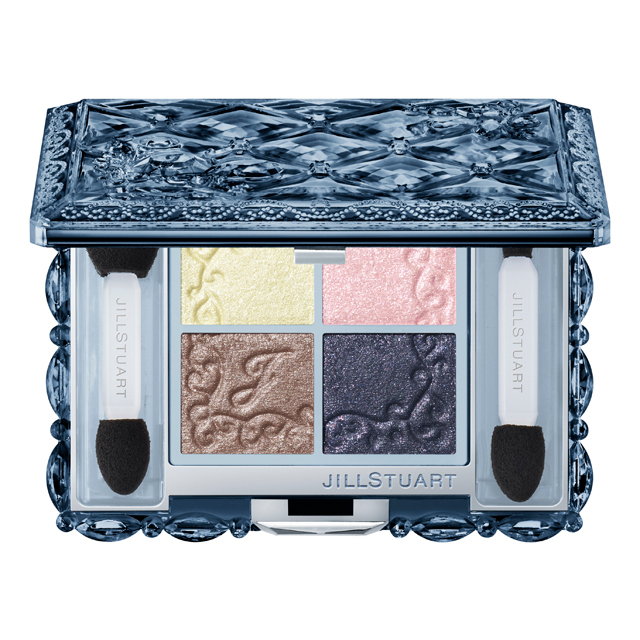 Brilliant sparkle and elegant luster, like gemstones.
Limited edition eye colors featuring warm navy and refined brown.
In Stores August 1, 2016 Limited Edition
JILL STUART Shimmer Couture Eyes
4 colors x 2 limited editions HK$350 each
★06 moonlight navy
Navy like the night's sky as lovers stare up into it * main color
★07 brown couture
Brown gold like a gorgeous bijou dress * main color
★Limited edition color

Product features:
・An elegant sparkle created from rich pearls. Limited edition sets of four eye colors that bring you dazzling eyes, wreathed in a sparkle like crushed gemstones and an elegant luster.
・The moist and creamy A "Clear Eye Base" is richly formulated with firm oils that work easily into your skin, providing perfect coverage. It helps to bring out the sparkle of the colors layered over the top while also heightening the hold of makeup, providing a glistening luster while banishing dullness and making your eyelids bright and appealing.
・The essence-in-base formulation provides a smooth and moist sensation of use and highly translucent, popping color.
・Supplied with a pair of two-headed applicator tips that feel smooth on your skin while applying an even layer of rich color. Use the large tip for the Clear Eye Base, the medium tip for the Jewel Couture Color, and the small tip for the Deep Color to provide beautiful gradation.
・Under the theme of the dual faces of women, the design for 06 uses deep navy to express "modern feminine", while 07 uses a refined brown beige to express "elegant natural". The theme of the compact design is the sparkle of gemstones. Princess cut tiles are decorated with a chain link of jewelry broaches, creating a varied and enticing sparkle with real depth. The arabesque pattern along the edges is decorated with sparkling beads. Navy and brown supplied one per box.
・Crystal Floral Bouquet Fragrance.
Directions for use:
・Use your finger or the large tip to apply A "Clear Eye Base" to your entire eyelid. Next use the medium tip to apply B and C "Jewel Couture Color" across your eyehole and create gradation. Finally use the fine tip to apply D "Deep Color" along the edge of your eye.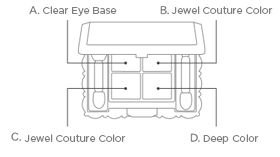 ★06
moonlight
navy

★07
brown
couture