JILL STUART mix blush compact N (2019 Spring New Color)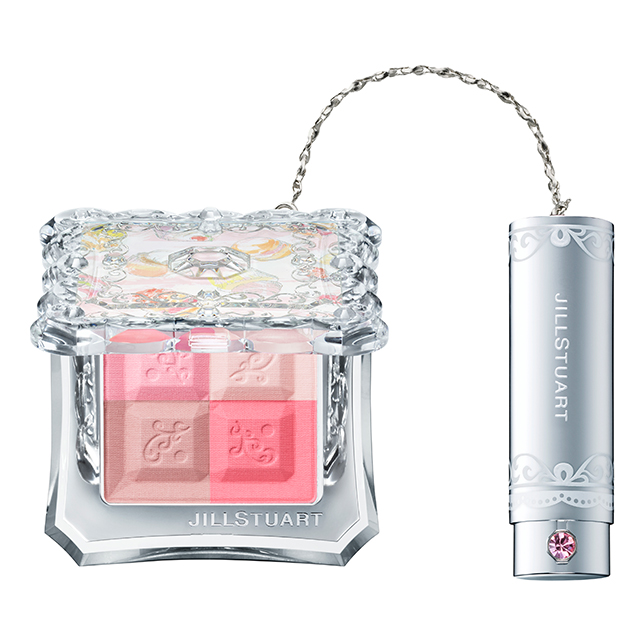 The sweet appearance of berry-tarte colors.
Blush color that brings you sensual cheeks.
JILL STUART Mix Blush Compact N
4 colors x 1 limited edition, HK$300
★21 strawberry tarte
A set inspired by the berry colors of a strawberry tarte
In stores March 1, 2019 Limited edition
02 fresh apricot
Orange-pink for a bright, fresh look
Product features:
・Blush color that allows four different hues and qualities to be freely mixed together. Provides an innocent complexion of health with a soft and foggy finish. A berry pink limited edition color inspired by strawberry tartes.
・A powder, yet so moist. The essence-in-base feels smooth on your skin, as though melting away, while the skin melting wax allows for uniform coverage of the powder while blending it into your skin.
・A semi-matt quality creates a soft and gentle impression.
・Supplied with a special brush that feels smooth on your skin.
・The compact is so girly, with cute, fluffy frills. The upper surface of the compact is a coral pink color, decorated with illustrations of unique treats such as cupcakes and macarons. The brush has a Swarovski rhinestone attached.
・Crystal Floral Bouquet Fragrance.

☆Design explanation: Provided in a coral pink box decorated with macaron colored sweets.
02
fresh
apricot