Jill Stuart Fruit Juice Nails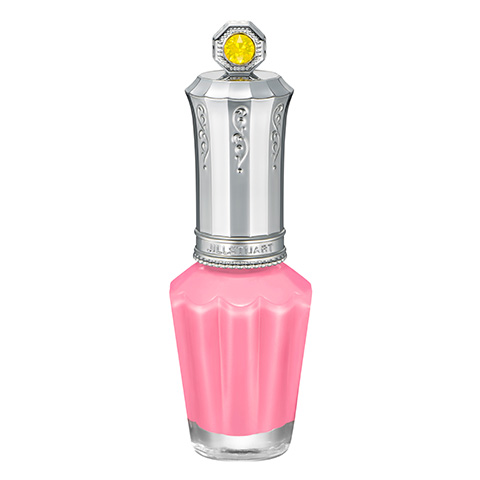 Fresh colors like fruit juice.
Nail colors with a smooth gloss.
In stores January 1, 2017 Limited edition
JILL STUART Fruit Milk Tea Nails
10mL, 5 limited edition colors, HK$105
★63 vanilla milk tea (non-pearl)
Cream beige, like vanilla milk tea
★64 strawberry milk tea (non-pearl)
Sweet pink, like strawberry milk tea
★65 citron milk tea (non-pearl)
Cream yellow, like citron milk tea
★66 milk green tea (non-pearl)
Cream green, like milk green tea
★67 peach milk tea (non-pearl)
Coral pink, like peach milk tea *Main color
★Limited edition color

Product features:
・Nail colors for both deep luster and clear, popping color that lasts. Limited edition colors inspired by a selection of milk tea flavors.
・A fresh base that is easy to apply. Spreads light and smoothly, for a uniform finish with no patchiness.
・Offers excellent, close coverage, for a beautiful finish that lasts.
・Dies exceptionally quickly. (Quick drying type)
・Responds flexibly to impacts to your nails or changes in their shape, providing beautiful color that lasts.
・The cap is a light, pearl-matte pink, and is decorated with a light peach Swarovski rhinestone.
・Crystal Floral Bouquet Fragrance.
Beauty essences:
・Lavender oil, Avocado oil (moisturizer)
☆Design explanation
・Provided in a pastel yellow box decorated with macaron colored sweets.
★68
strawberry
juice

★69
cranberry
juice

★70
melon
juice

★71
pineapple
juice

★72
grape
juice