JILL START Nude Couture Eyes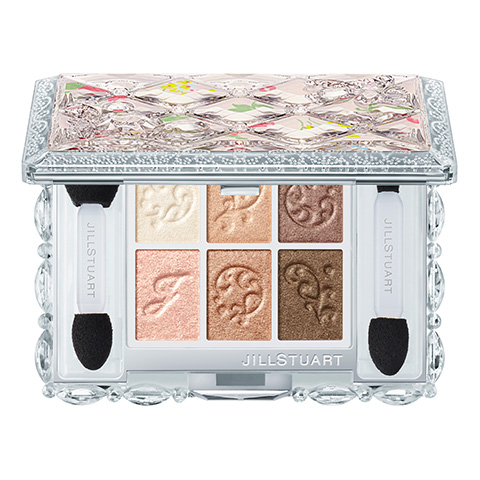 Bring shadow to your eyes with a glistening luster.
Six eye colors that bring you a sensual gaze.
In stores April 1, 2017 Limited edition
JILL START Nude Couture Eyes
2 limited editions, HK$350 each

★01 skin beige
A beige and brown set of colors that blend meltingly into your skin
★02 mauve brown
A mauve brown set that deepens your femininity with subtle nuances *Main color
★Limited edition color

Product features:
・For shadowy, three-dimensional, translucent eyes. Limited edition sets of six eye colors that allow you to freely enjoy a variety of different combinations.
・Blends into your skin with a moist, soft touch for a lustrous finish. Depicts a stunningly sexy gaze with intellectual overtones.
・Formulated with highly moisturizing Vaseline. Moist to the touch and covers closely without any powder spillage.
・Formulated with highly sparkling "shine oil". Application to your eyelids creates a rich luster and feeling of translucency.
・Essence-in-base for a moist and smooth quality with highly translucent, popping color.
・Provided with two double ended applicator tips, one with a large tip and medium tip, and one with a medium top and small tip. Both are smooth against the skin and provide uniformly rich color.
・A limited edition compact design featuring a textile pattern inspired by strawberry fields, and which might make you want to head out for a picnic party right away!
・Crystal Floral bouquet fragrance.
One per box, which is pink and decorated with strawberries.
Directions for use:
・The product will provide exactly the color you see, so apply the desired color in the desired area.
Beauty essences:
・Rosemary extract, Lavender oil, Avocado oil (moisturizers)
☆Design explanation
・Provided in a pink box decorated with strawberries.
★01
skin
beige

★02
mauve
brown