Jelly Eye Color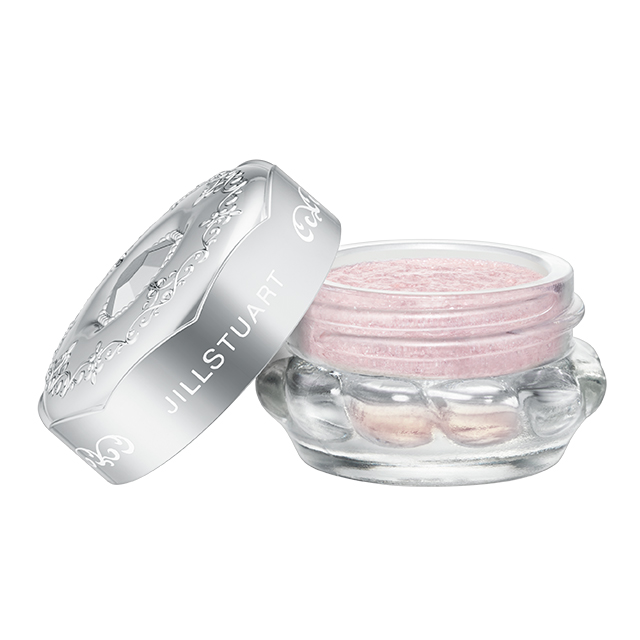 Fresh fit on eyelids with a jelly-like touch.
Eye color that glimmers and shines like jewel droplets.
In stores May 1st, 2017 New items
JILL STUART Jelly Eye Color
11 colors, including 1 limited-edition color, HK$150 each
01 diamond snow Snow white that radiates a dazzling diamond-like sparkle
02 nude dazzle Nude beige that melts onto skin with a dazzling glimmer
03 brown bijou Glow brown that shines as if your eyes are decorated with jewels
04 rose romance Rose white with a sparkle as pure and sweet as love that makes the heart race (*Main color)
05 dark glint Dark brown that radiates an enchanting glimmer from within
06 angel tear Pure pink that sparkles as pure and clear as the tears of an angel
07 amethyst dew Purple with the sparkle of trickling amethyst droplets
08 Cinderella gem Jewel blue with the innocent sparkle of Cinderella
09 blooming jewel Jewel coral that is as dazzling as flowers bursting into full bloom
10 misty glow Mist green that shines like sunbeams glistening in the fog
★11 raspberry pop Brilliant pink with the sweetness of raspberries ★Limited edition color
Product Features:
・Jelly eye color that melts onto skin with a jelly-like feel, creating a fun luxurious brilliance, wet-look gloss and sparkle.
・High luminance, richly formulated with dazzling pearls and glitter. Colors go on beautifully true and pearls are fade-resistant, for clear and freshly-applied color that lasts.
・Fresh, moist texture fits smoothly on eyelids. Long lasting freshly-applied look and moisture.
・The cap is designed to look like a soft jewelry cushion, representing the bouncy, jelly-like touch of the product.
・Crystal Floral Bouquet Fragrance.
Directions for use:
・Take a small amount onto a fingertip and spread across eyelids.
*Close cap tightly after use.
Beauty essences:
・Rosemary extract, Lavender oil, Avocado oil (moisturizer)
01
diamond
snow

02
nude
dazzle

03
brown
bijou

04
rose
romance

05
dark
glint

06
angel
tear

07
amethyst
dew

08
Cinderella
gem

09
blooming
jewel

10
misty
glow

★11
raspberry
pop