Pure Night Vanilla Hand Cream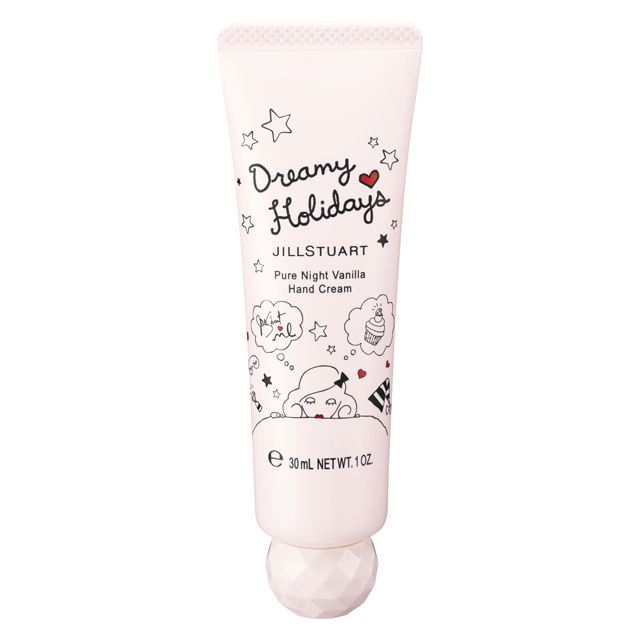 With a relaxing touch and the fragrance of vanilla.
Hand cream for hydrated and smooth skin.
JILL STUART Pure Night Vanilla Hand Cream
30g HK$80 each


Product features:
・Limited-edition hand cream with the gentle scent of Pure Night Vanilla and a soothing texture that envelops right to the fingertips, for hydrated and smooth skin.
・Cream has a rich texture achieved with the perfect balance of paste oils with tenacity, and those with good skin affinity. Spreads smoothly and blends richly, even into dry skin prone to roughness.
・Water-soluble moisturizing ingredients and emollient oils with good skin affinity lead to hands with full, proper texture.
・Soft veil of moisture fits closely to skin and protects it from dryness, making skin, nails and even cuticles hydrated and supple. Leaves no sticky feeling, even when used directly after hand care.
・Makes the hands and nails feel hydrated and smooth with moisturizing ingredients obtained from fruit, plants and other natural sources.
・Features a limited-edition design with MORGAN LANE character Lanie in the midst of happy dreams.
・Limited-edition Pure Night Vanilla fragrance.

Beauty essences:
・Moisturizing ingredients: Peach extract, rosehip oil, apricot oil, baobab oil, argan oil, jojoba oil
※Peach oil is prunus persica leaf extract, rosehip oil is rosa canina fruit oil, apricot oil is prunus armeniaca kernel oil, baobab oil is adansonia digitata seed oil, argan oil is argania spinosa kernel oil, and jojoba oil is simmondsia chinensis seed oil.