Dreamy Wish Eye Shadow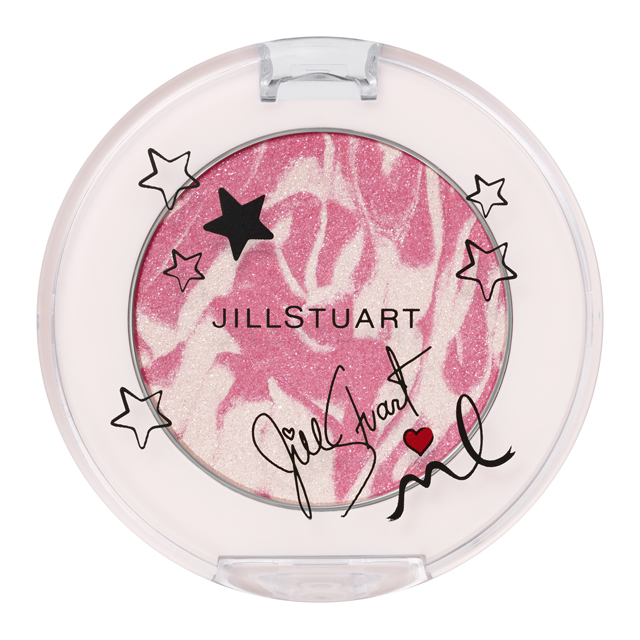 Like being in the midst of a happy dream.
Marble eye color with absolutely unique combinations of two colors.
JILL STUART Dreamy Wish Eye Shadow
5 limited edition types, HK$150 each

★01 sweet dreams
Sweet pink, like being in a girl's sweet dreams
★02 twinkle moon
Moon yellow, like the flickering light of the moon
★03 bubble soap
Purple blue, like sparkling foam (*Main color)
★04 sleepover
Bordeaux pink, evoking the fun of girls' night
★05 dreamy invitation
Milk brown, like an invitation that makes the heart throb
★Limited edition color

Product features:
・Exquisite lusterous coloring created by weaving two different colors together. These limited-edition eye colors create pure eye looks with translucence.
・Superb marble color created with a new formula that intertwines colors as they're filled. This creates fun and nuanced looks. Because the two colors in each item combine differently, every eye color is absolutely unique.
・Formulated with translucent sheet-shaped powder to achieve bright and pure color. Highly-sparkling oil imparts lids with exquisite luster and translucence. Also contains vaseline, which has a strong moisturizing effect. This gives the powder a rich and moisturizing feel against lids, and achieves excellent hold.
・Limited-edition design features Morgan's hand-drawn starry sky on a clear case.
・Limited-edition Pure Night Vanilla fragrance. Beauty essences:
・peach extract, apricot oil, argan oil, jojoba oil, squalane (moisturizer)
※Peach oil is prunus persica leaf extract, apricot oil is prunus armeniaca kernel oil, argan oil is argania spinosa kernel oil, and jojoba oil is simmondsia chinensis seed oil. Directions for use:
・Take a small amount onto chip (not included) or fingertip and spread across eyelids.

Tips:
Move finger gently to take product onto fingertip, then apply to lids in tapping motions to avoid mixing the two colors. This creates a superb marbled finish. Applying in an even layer creates a more natural eye look.
☆Explanation of design Each item packaged in a box decorated with MORGAN LANE character "Lanie".
★01
sweet
dreams

★02
twinkle
moon

★03
bubble
soap

★04
sleepover

★05
dreamy
invitation