Surprise Love Hand Cream Heart message 【03 Mutual Love】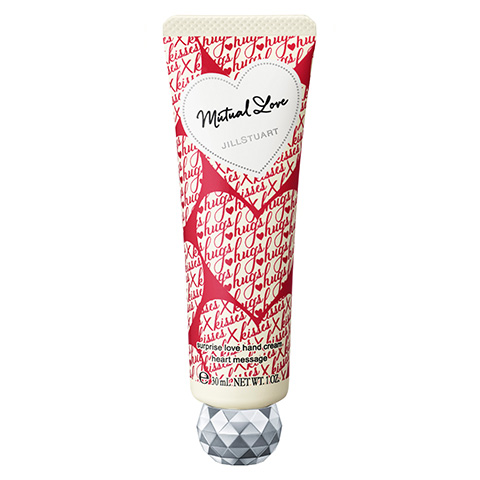 To impart all types of love.
~Aromatic pure rose fragrance~
Formulated with rose (natural fragrance)
[Give confidence, a feeling of elation, a feeling of being blessed]
In stores October 1, 2017, Limited edition
JILL STUART Surprise Love Hand Cream (Heart message)
30g, HK$95

03 Mutual Love — What can I say, I love you.


Product features:
・Formulated with natural fragrances. Fragrances based around essential oils fill the recipients of these gifts with feelings of happiness, penetrating soothingly into their hearts.
・Richly formulated with beauty essence oils that blend easily into the skin and refreshing water-soluble polymers, creating a wonderfully smooth feeling of use.
・In the moment of application, the water-soluble polymers unravel, gently enveloping the hands without any stickiness at all.
・Formulated with essential oils extracted from flowers and fruit and then moisturizers common to all five types. A deep feeling of moisture makes hands incredibly soft.
・A gorgeous design with a premium feeling, each item covered with an original textile that perfectly matches the accompanying message. The exterior packaging is styled like a bag and has a ribbon attached, allowing it to be presented as a gift without any further wrapping.

Directions for use:
・Take a suitable volume and work into your hands.

Beauty essences:
Moisturizers:
・Chamomile extract, orange extract, rose extract, jasmine extract, lime extract, and apricot oil.