Nail Lacquer R (In stores January 5, 2018 )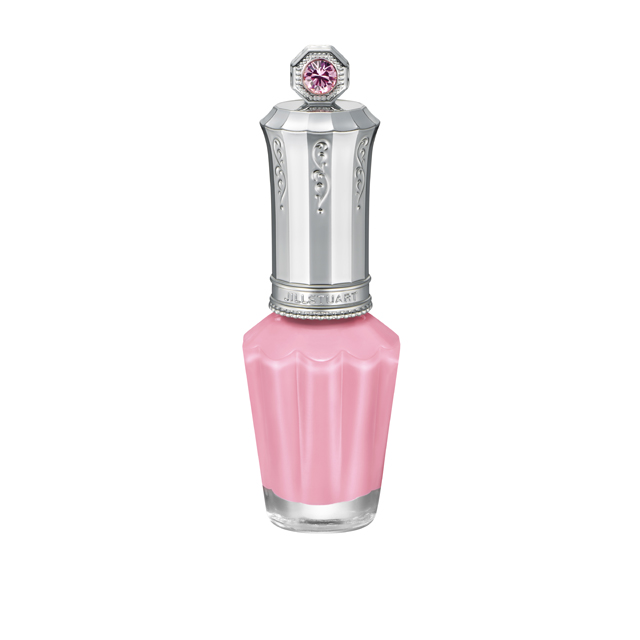 Warm colors that announce the arrival of spring.
Nail color to create gorgeous fingertips.
In stores January 5, 2018
JILL STUART Nail Lacquer R
10mL, 3 new colors, HK$105 each

83 fairy tale
Milky pink as lovely as the tail of a fairy (non pearl)
84 twinkle wing
Salmon pink that sparkles like fluttering feathers ※Main color
85 afternoon date
Romance red like an elegant afternoon date (non pearl)

Product features:
・New nail colors for both deep luster and clear, popping color that lasts.
・83 is a milky pink, 84 is a salmon pink with sparkling green and red lamé, and 85 is a soft red that suits skintones.
・Features a thin base that is easy to apply. Spreads lightly and smoothly, creating a uniform finish with no patchiness.
・Offers excellent, close coverage, for a beautiful finish that lasts.
・New Polish Glow Polymer formulation dries extremely fast. (Quick drying type)
・Lasting Polymer responds flexibly to impact on your nails or changes in their shape, for beautiful color that lasts.
・Crystal Floral Bouquet fragrance.
Beauty essences:
・Rosemary extract, lavender oil, avocado oil (moisturizer)
83
fairy
tale

84
twinkle
wing

85
afternoon
date