Forever Juicy Oil Rouge Tint (In stores April 1, 2018)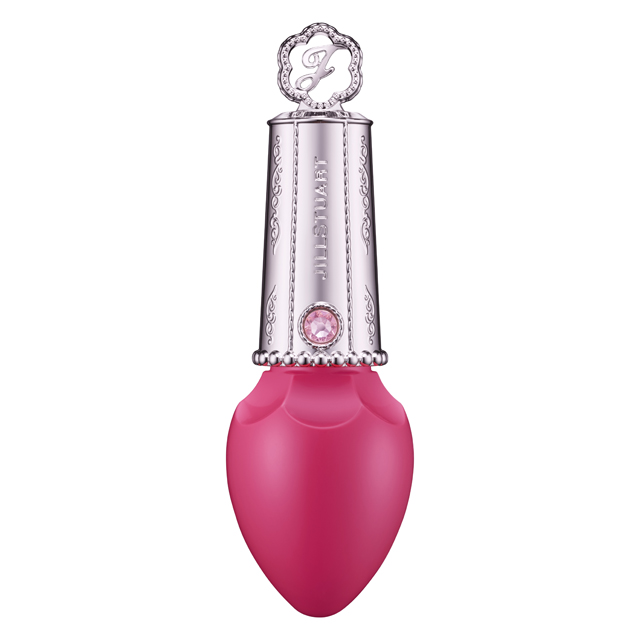 Get lips so juicy they're like droplets of fruit.
Tint rouge that creates vibrant, fresh color that lasts.
In stores April 1, 2018
JILL STUART Forever Juicy Oil Rouge Tint
10mL, 3 colors including 1 limited-edition color, HK$200 each

06 sweet cranberry
Vivid pink like a cranberry
(non pearl)
07 tropical papaya
Coral orange like a summery papaya
(※Main color)
★08 apple trick
A clear blue that creates a pink tint, with blue lamé
★Limited edition color

Product features:
・Lip tint that creates plump and juicy lips, like fruit. Just one product imparts rich color, juicy shine, and moisture from oils, creating vivid color that lasts.
・06 is a vivid cool pink. 07 is a coral orange with pink and gold pearl added. 08 is a limited-edition clear blue color that reacts to the moisture on lips and turns pink, with blue and green lamé. Enjoy your own unique and blendable pink.
・The packaging has a strawberry-like shape, inspired by the concept of "rouge that creates lips like fruit". The lid is a silvery pink, to evoke tinted lips. A Light Rose Swarovski sparkles at the center of the blossoming fruit with J embossed plaque crowning the top.
・Crystal Floral Bouquet Fragrance.
Directions for use & cautions:
・Apply directly to lips.
・Wipe the tip off with a tissue and return to container, then close the lid tightly after use.
・Please be aware color cannot be removed from clothing or other items.
・If concerned about color remaining on lips, use a cotton pad saturated in point makeup remover to wipe it away.
・08 reacts with moisture on lips to transform into a pink. (Individual results will vary.)
・Due to the characteristics of the product, the contents or applicator tip may turn pink due to the moisture remaining on the applicator. This does not affect product quality.
Beauty essences:
・Peach kernel oil, Apricot oil, Grape seed oil, Avocado oil, Orange oil, Strawberry extract, Raspberry extract, Acerola extract (moisturizer)
※Peach kernel oil is prunus persica kernel oil, apricot oil is prunus armeniaca kernel oil, grape seed oil is vitis vinifera seed oil, strawberry extract is fragaria chiloensis fruit juice, raspberry extract is rubus idaeus fruit extract, acerola extract is malpighia punicifolia fruit extract.
06
sweet
cranberry

07
tropical
papaya



★08
apple
trick