JILL STUART juicy sunny floral hand essence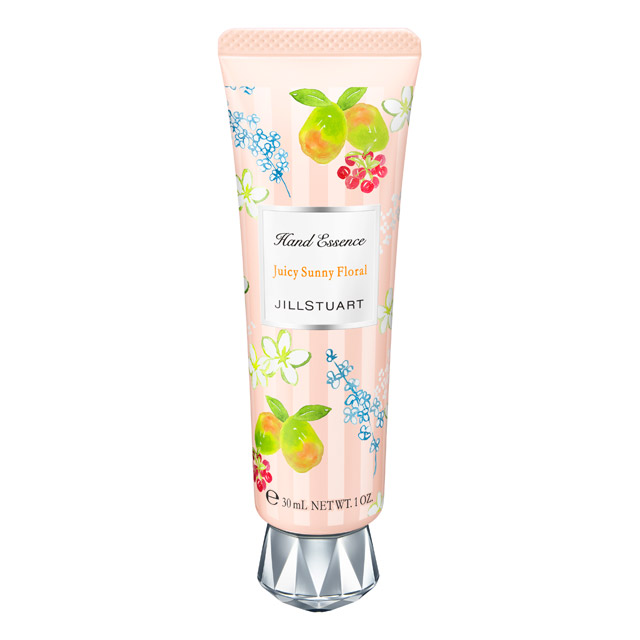 With the blessings of fresh fruits, for skin smooth to the fingertips.
A hand essence that leaves skin supple.

In stores June 1, 2018 Limited-edition
JILL STUART Juicy Sunny Floral Hand Essence
< Serum for hands >
30g, HK$80


Product features:
・A lightweight and non-sticky hand essence inspired by beauty serum.
・Delivers moisture to thirsty skin and leaves hands feeling silky, supple and plump. It cares for skin prone to dryness and keeps nails shiny.
・Ingredients with powerful moisturizing effects, like extracts from juicy fruits and from flowers that defy the heat of strong sunlight, deliver lightweight hydration.
・It doesn't feel sticky, so you can use your computer or smartphone directly after applying.
・Juicy Sunny Floral fragrance

Design:
・A cute design featuring tropical fruits on a background of light coral orange stripes.

Directions for use:
・Apply a suitable amount to hands and work into skin.

Beauty essences:
・Moisturizers: Guava extract, acerola extract, star fruit extract, hibiscus extract, glycerin
Guava extract is psidium guajava leaf extract, acerola extract is malpighia punicifolia fruit extract, star fruit extract is averrhoa carambola leaf extract, hibiscus extract is hibiscus sabdariffa flower extract.