Crystal Bloom Moonlight Magic perfumed hand cream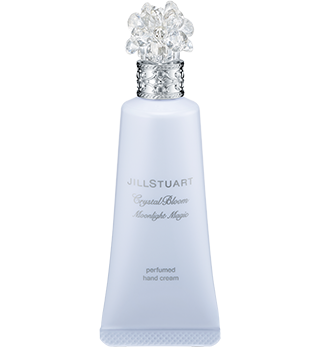 In stores December 1, 2018, Limited Edition
JILLSTUART  Crystal Bloom Moonlight Magic perfumed hand cream
40g, HK$170
Product features:
・ Perfumed hand cream that brings the soft, gentle fragrance of Crystal Bloom Moonlight Magic eau de parfum to the hands.
・ A combination of oil and fragrance perfectly suited to the skin to wrap your hands in smoothness.
Adds smoothness and elasticity with a silky touch.
・ Contains jasmine, gardenia and other beautifying ingredients that deliver high-quality moisture to the hands.
The fragrance seems to melt into the hands, delivery moisture and clarity.

Directions for use:
・ Take a small amount into your palm and spread on the hands.

Beatifying ingredients:
・ Moisturizing ingredients: Combination of jasmine extract, gardenia extract, Madonna lily extract, edelweiss extract, damask rose extract and glycerin.
*Jasmine extract is Jasminum sambac extract, gardenia extract is Gardenia jasminoides extract, Madonna lily extract is Madonna lily root extract, edelweiss extract is edelweiss flower/leaf extract, damask rose extract is damask rose petal extract.